Showing posts tagged 'technology'
---
12 May 2021
Equivalents keep the supply chain moving in uncertain markets
In uncertain markets, the demand for specific, branded components tends to outstrip supply. We have seen this recently with the semiconductor shortage, where specific chips are hard to come by at a time when they are needed.
Equivalent components, also known as equivalents in the industry, provide an immediate solution. These 'generic' parts can be specified when specific parts can't be sourced and in cases where parts no longer need to be from one brand.
Successive cycles of electronic component shortages (especially in the semiconductor sector) has led to manufacturers specifying equivalents on their order sheets. Outside of sectors that have precise specifications for safety, like aerospace and biotechnology, these equivalents are helping to keep supply chains moving.
Equivalent in quality and specification
One of the common misconceptions about equivalent components is that they are somehow castoffs or second-best components. This is untrue. They are simply equivalent components from a different brand/maker/OEM.
The term 'equivalent' is used to describe components that can be used as substitutes for specific components. They meet the size, power, specification and design standards set by design teams. They are 'like-for-like' on the spec sheet.
The quality aspect of equivalents is only a concern when the electronic component distributor cannot verify the provenance of the components. At Cyclops, we only source genuine, verifiable components. We would rather expand our supplier base than source a batch of equivalents that we cannot be sure of.
A pragmatic approach to managing supply
Companies that are fixated on using specific components run the risk of running into roadblocks. There is a global shortage for chip passives and discrete semiconductors and this problem is expected to last through 2021.
Specifying equivalents is a pragmatic approach to managing supply chains in uncertain markets for several reasons. For the customer, generic specification reduces supply chain risk. It allows the customer to meet demand requirements without the risk of backorders, supply constraints, or being outbid by other companies.
The biggest benefit is flexibility. Rather than be tied to what is in stock and what you can source from an OEM, you can specify a value and chip size for passives, or a generic diode designation, and let your distributor source equivalents.
If you want to give yourself the best chance of meeting demand for scarce electronic components, equivalents will need to form part of your supply chain. Otherwise you run the risk of disruption and higher procurement costs.
How we can help you
Cyclops specialises in the procurement and delivery of electronic components and parts for a wide variety of industries from the world's leading manufacturers.
We can source equivalent components for you from our global network. All we need is a value and chip size for passives or a generic diode designation for actives. We will work with your spec sheets and source high-quality, equivalent components.
If you are currently experiencing an electronic component shortage, we can help. Email us if you have any questions or call us on 01904 415 415 for a chat with our team.
---
18 November 2020
Amazon One: An easier way for you to pay using your palm
Contactless payments are the most convenient way to pay for things. Whipping out a contactless payment card and paying without entering a pin number saves time, and the ability to save cards to Google Pay or Apple Pay on your smartphone and use NFC to make contactless payments makes life easier too.
It's all very slick and useful, but there's a limitation to the current technology: you need to have your card or your smartphone in your hand.
If you have ever forgotten your wallet when you pop to the shops or left your phone in the car when you go shopping, the problem is clear to see: your reliance on a device (be it a card or phone) to make payments is a hindrance.
So, wouldn't it be great if you could just use your hand? That's what Amazon One aims to do, and it offers a glimpse into an exciting future.
Payments in the palm of your hand (literally)
Amazon One is a new contactless payment technology that uses your palm as a form of biometric signature. All you do is scan your palm over an Amazon One payment module and payment is authorised if your palm print checks out.
Forget about your card and phone. All you need is your palm.
The technology is ingeniously simple in use, and it is so useful, and so convenient, that it could replace cash and cards in the future.         
To set up Amazon One, you insert a payment card into the module and hover your palm over the sensor when prompted. Amazon One then scans and saves your unique palm signature to that payment card. You can enroll with one palm or both your palms. Once you are enrolled, you needn't do anything else.
Security concerns and rollout
The obvious security concern with Amazon One is customer data, and the question you probably have is: where is my palm print stored?
The Amazon One device is protected by multiple security controls. For example, the technology driving the imaging sensor uses depth sensors to differentiate between artificial models and images. Palm images are also stored in a secure data environment, encrypted so that the data is useless if it ever falls into the wrong hands.
You can delete your biometric data via the Amazon website. You can manage palm images and add new ones using a module. You can even add loyalty and discount cards, so you have the opportunity to break free from your whole wallet.
With such exciting possibilities, Amazon One is in the best hands in terms of development and rollout (excuse the pun). Amazon has a rich history of bringing top products to market. There's a reason they are one of the most valuable companies in the world.
You can find Amazon One in Amazon Go stores in Seattle, where a trial is being performed to evaluate the technology. It has worked brilliantly so far, and Amazon's vision is for it to be rolled out to third-party retailers in the near future.
Soon, you'll have the whole wide retail world in your hands.
---
14 September 2020
5G Technology and drones - The future taking flight
5G Technology and drones - The future taking flight
The last decade has seen the commercial market for drones explode. The global drone market was estimated by PWC in 2016 to be worth just under £100 billion ($127bn) and that was 4 years ago, before the emergence of 5G technology.
Rapid advancements in the propulsion, navigation, sensory and battery systems that power drones has brought about the likes of drone delivery services, aerial photography, and a new way to conduct mountain search and rescue operations.
These varied examples of drone applications perfectly illustrates the real usefulness of drones. Key to their adoption has been lithium-ion batteries that charge rapidly and better navigation systems that enable pinpoint control.
However, as drones have been increasingly adopted, our data transfer needs have increased and 4G technology has been shown up to be less than ideal.  
The need for 5G
5G can theoretically reach speeds of 10 gigabits per second and it is expected to reliably offer 1 Gbit/s to 2 Gbit/s in a few years.
This is much faster than 4G. For drones, it means faster data transfer and data collection, enabling real-time analysis and access to big data files quickly.
However, while much has been made about the increased speed of 5G over 4G (it is up to 100 times faster than 4G) the real value for drones is the lower latency.
Latency is the lag that occurs when resources are requested over a network. For example, you might wish to check wind speed when flying, but when you request the data, it takes a few seconds to load. This delay is caused by latency across the network.
Latency for 4G is around 30 milliseconds, whereas with 5G it's below 5 milliseconds. In a best case scenario, the latency can be 1 millisecond.
This latency improvement is massive for drones. It makes reliable live view and live streaming possible. Real-time footage becomes a reality. Load times become imperceptible and responsiveness increases between devices.
Another area where 5G benefits drones is the 5G New Radio interface, which enables a higher number of devices to be used in one area over a wave spectrum. This means more devices can be controlled to reduce congestion.
Meeting demand for 5G component sourcing
5G is an exciting technology but it is still in its infancy, and up until now drone architecture has been designed around 4G.
5G requires different components to handle the speed increase and demands placed over the network. Drones need a new architecture to transfer data in milliseconds and transmit high-definition footage in real-time.
In short, the current technology has to evolve.
Sourcing components like ESCs, flight controllers, GPS modules, receivers, antennas and batteries for 5G drones will become more challenging as more players in the market start to evolve their products to meet demand.
Day-to-day component sourcing will require good contacts in the industry just as it always has. But the race to 5G will accelerate demand and increase competition. This is where the value of an electronic components distributor like us comes in.
We can supply active, passive and electro-mechanical components, including 5G components, working directly for you to procure the best components at the lowest prices. If the future is 5G, we'll help you meet it.
---
01 April 2020
Huawei vs Donald Trump
Senior officials in the Trump administration agreed to new measures to restrict the global supply of chips to China's Huawei Technologies, sources familiar with the matter said, as the US administration continues its criticism of China over coronavirus.
The move comes as ties between Washington and Beijing grow more strained, with both sides pinning blame for the spread of the disease and retaliation over the expulsion of journalists from both countries.
Under the proposed rule change, foreign companies that use U.S. chipmaking equipment would be required to obtain a U.S. license before supplying certain chips to Huawei, who were blacklisted last year, limiting the company's suppliers.
Huawei warned on Tuesday that 2020 would be its most difficult year yet due to American trade restrictions which dealt a blow to its overseas sales in 2019 and predicted the Chinese government would retaliate against the United States.
"The Chinese government will not just stand by and watch Huawei be slaughtered on the chopping board," Chairman Eric Xu told reporters at the launch of Huawei's annual report.
The United States in the past has alleged that the Chinese government could use Huawei's equipment to spy, an accusation rejected by the company.
According to one source, the rule-change is aimed at curbing sales of chips to Huawei by Taiwan Semiconductor Manufacturing Co, a major producer of chips for Huawei's HiSilicon unit, as well as the world's largest contract maker.
 "Even if this situation you mentioned happened, Huawei and also other Chinese companies can choose to buy chipsets from Samsung from Korea, MTK from Taiwan, and [Unisoc] in China, and use those companies to develop chips," Huawei's Xu said to Reuters.
Some Tech companies do use US made chip manufacturing equipment including Mediatek which has its chips made by TSMC.  According to electronics weekly, TSMC also makes the chips for Huawei's chip design subsidiary HiSilicon.
Huawei said net profit for 2019 came in at 62.7 billion yuan ($8.9 billion), up 5.6% - its weakest growth in three years, and down from 25% jump a year earlier. Huawei also spent 15.3% of its 2019 revenue – $18.6 billion – on R&D.
It is still to be seen how Huawei will be affected by the US ban, if it is imposed.
---
12 June 2019
Worries about the rare earth minerals needed for high-tech products
Rising tensions between US and China have sparked worries about the 17 rare earth minerals needed for high tech products like robotics, drones and electric cars.
China recently raised tariffs to 25% on rare earth exports to the U.S. and has threatened to halt exports altogether after the Trump administration raised tariffs on Chinese products and blacklisted telecommunications giant Huawei.
With names like europium, scandium and ytterbium, the bulk of rare earth minerals are extracted from mines in China, where lower wages and lax environmental standards make production cheaper and easier.
But trade experts say no one should panic over China's threats to stop exporting the elements to the U.S, since there are rare mineral mines in California, Australia, Myanmar, Russia and India, which could step in when needed.
"The sky is not falling," said Mary B. Teagarden, a China specialist, professor and associate dean at the Thunderbird School of Global Management in Phoenix. "There are alternatives."
Simon Lester, associate director of the centre for trade policy studies at the Cato Institute think tank in Washington, agreed. "Over the short term, it could be a big disruption, but companies that want to stay in business will find a way," he said.
Although the US is among the wold's top countries for rare earth's production, it is also a major importer for the minerals, looking to China for 80% of what it buys, according to the US geological Survey.
Mountain Pass, located in San Bernardino County, California, was once top supplier of the world's rare earth minerals, but China began taking over the market in the 1990s and the U.S. mine stopped production in 2002. Mountain Pass later restarted production only to close again amid a 2015 bankruptcy. Since then, Mountain Pass has focused on achieving greater autonomy with a $1.7 billion separation system set to go online late next year that would allow it skip sending rare earths ore to China for that step.
Australian rare earths production giant Lynas Corp. Ltd. this month announced a proposed deal with Blue Line Corp. of Texas for a separation facility at an industrial site in Hondo, Texas.
There may be other options, too. Deposits of rare earths have been detected in other U.S. states including Wyoming and Alaska, as well in several remote areas of Canada. The Interior Department is calling for more prospecting and mining of "critical minerals," including on public lands currently considered off-limits, and even in oceans.
"We have to be more forward thinking," said Alexander Gysi, an assistant professor in geology and geological engineering at the Colorado School of Mines in Golden. "It would be better for the U.S. to have a greater range of sources for rare earths."
---
25 November 2015
The App That Could Cure Cancer..
15 years ago, it all began with the sceptical views that mobile phones apparently cause cancer, but now; smart phones might be able to help cure cancer.
When you're asleep at night, what do you do with your smartphone? Put it on charge? Put it on flight-mode? Use it for an alarm?
Rather than wasting this valuable energy, you could be helping to cure diseases such as cancer and Alzheimer's.
The Garvan Institute of Medical Research (GIMR) have teamed up with Vodafone in Australia and developed a new app called 'Dream Lab'.
This revolutionary feature works when a phone is on charge by automatically downloading genetic sequencing profiles that are provided by the GIMR, which is processed using the phone's CPU, to be sent back to the institute and used in cancer research.
People who download the app are able to select which specific cancer they want to support, and can also select how much mobile data the app uses each month to prevent costly bills.
It is hopes that these contributions will help to an abundance of wider research, and potential statistics support this. If 100,000 install the app, researcher would be able to process data 3,000 times faster than at present.
This is not the first app of its kind though; an app called Folding@Home which was created at Stamford University also uses similar models to harness power. This power is then used to search for cures for diseases such as Alzheimer's, cancer, and epidemic diseases such as Ebola.
The tremendous attitude change towards mobile phones over the past 15 years, combined with the progression made highlights how quickly technology can be developed to contribute towards this compulsory research.
By doing something as simple as turning on an app before going to sleep, you could be helping save millions of lives in the future.
---
25 November 2015
25 Years Of Shipping Madness!
It's coming to the end of Cyclops 25th Anniversary year, but hasn't it been amazing?!
With the help of our customers, and our dedicated team, we are constantly working hard to make sure that Cyclops Electronics is your first port of call for all your electronic component needs.
Since Cyclops began, 25 years ago, we have shipped out a grand total of over 350,000 packages!
Comparing this to huge companies such as Amazon, who ship out 3.3 million boxes, and Ebay, who ship out 20,000 packages every single day, Cyclops may be small, but our condensed team of experts can help you with all of your needs and queries.
Of course, the opinion of our customers is the one that matters! If you have any problems using our website, or you have any ideas about the services that we offer, then please don't hesitate to let us know, we would love to hear from you!
---
04 November 2015
Tech For Pets!
If you're an animal lover, then you'll love this!
'Squeaker', an electronics company based in Melbourne, Australia, has designed and manufactured tech for your beloved pooch. If you worry about your pup getting loose, or having to leave them home alone, then fear not! Your new 'Buddy' is here to help.
'Buddy' is the name of this new collar. But instead of the conventional shiny nametag and spikes, 'Buddy', offers a helping hand when taking care of your dog.
Dog on the run?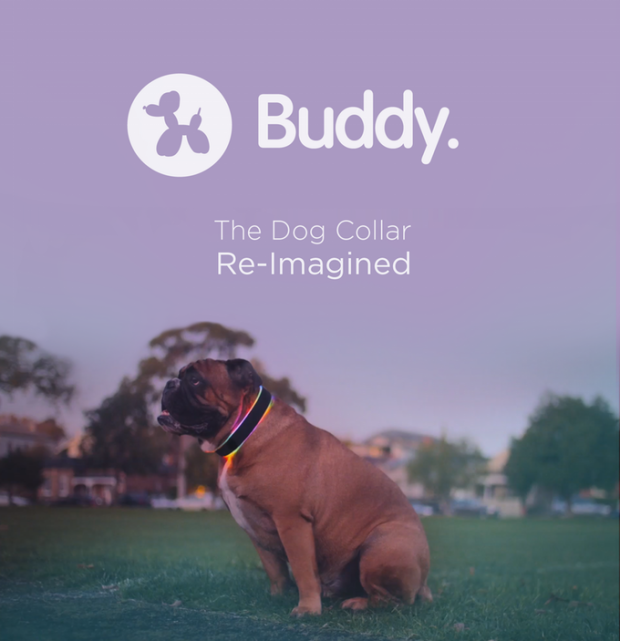 First of all, the high tech dog collar has been made with a built in GPS tracking system. When your dog is out an about, you can track their
whereabouts by downloading the 'Buddy' app, clever ey?
Another feature of the GPS tracking is the 'Virtual fence', using the app, you can 'draw' a virtual fence around an area. If your dog wants to wander further than he's supposed to, you'll receive a notification letting you know that he's out and about.
LED lights:
The next feature of this doggy-gadget is the LED lights that surround the exterior of the collar. The pretty colours aren't just for looking suave though, when night falls, the collar will automatically light up to avoid any collisions, and make your dog easy to spot!
If your dog takes the wrong turn and ends up lost, you can use the 'Buddy' app to report the pooch lost, which will light the LED lights up red and orange, so that passersby know he is missing.
Checking in:
If you're out and about for the day in a place where dogs cannot venture, or
stuck at the office for a long time, you can check on your dog at any time using the 'Buddy' app. If you have 'Nest' central heating, the app will also automatically connect with it to reduce the temperature of your house if the collar detects that your dog is too warm.
Furry FitBit:
Just like a FitBit that you or I may use to track our health, Buddy also monitors your dog's diet and exercise. This helps you make sure that your dog is getting the right amount of walks, eating the right amount of food and also tracks how much sleep your tired little puppy is getting.
The 'Buddy' app also lets you scan your pets food so that you can quickly check the nutritional value of what they're eating.
Extras:
The doggy babysitter 'Buddy' is also fully water-proof, it has a 14 day life span once fully charged and comes in three different sizes; small, medium and large.
Innovative ideas such as 'Buddy' make it easier to look after your loved one, and put your mind at rest when you can't be there for company and cuddles.
---
27 October 2015
Technology for Charity!
The concept of charity hasn't changed in many decades, however, the way in which we give to charities certainly has.

The United Nations Children Fund (UNICEF) has created a fitness band that combines exercise, gaming and charity, three components that nobody thought would merge.
The Fitness Band has been designed with children in mind, specifically for two purposes. Firstly, it increases the awareness of helping others through fun.
The device acts as a pedometer, and each child wearing the band will receive digital missions to complete a certain amount of steps. Once these steps have been completed, they unlock a parcel of food which is then sent to undernourished children.

Whilst benefiting the people that are sent the food, the Fitness Band is also encouraging children to do more exercise, who need more physical activity in their day-to-day lives.

The way it works is that the Fitness Band itself costs about $40.00 to buy outright, then each mission completed which then benefits the children in need cost around $4.00 to download. It's this $4.00 that is put towards the UNICEF charity.

UNICEF has cleverly created a device to be deemed 'cool' by the kids, which will make it desirable to every 11 year old. The more popular this piece of tech becomes, the more people are helped in the long run.

This is not the only technology that has been created recently with charity in mind though. Since it was BTTFD, (Back to the Future Day) less than a week ago, NIKE decided to create something EXTRA special.
With the help of their designers, NIKE has created the 'Self Tying Trainer' as featured in the film. They have done this for a number of reasons, one, to celebrate the once in a lifetime event of BTTFD, but also, to support a charity.

Nike designer Tinker Hatfield, who designed the movies original shoe, sent Michael J Fox a letter, explaining his idea, and explaining that funds raised from an auction of the incredible shoes will all be donated to the Michael J Fox Fund – A charity set up by Fox to help find a cure for Parkinson's, which Fox himself suffers from.

The idea in Hatfield's clever head is that during the later stages of the awful disease that is Parkinson's; simple things such as shoe tying become a difficult task. With a self-tying trainer, sufferers need not worry about it.

The trainers are currently on auction for over £10,000, so if you're desperate for this futuristic design, you had better get saving those pennies now!

It's inspiring to see how the advances in technology do not just affect the life of the person using them, but the lives of many others in need to.
---
21 October 2015
Back To The Future; We're already there!
Who said the hover board wouldn't be invented by 2015?
In April 2015 an inventor from Montreal called Catalin Alexandru Duru broke the Guinness World Record for the longest hover board flight in history!
The autonomously powered hover board of his own design and construction flew up to 5 metres over a lake, covering a distance of 275.9 metres on a trip that lasted over a minute and a half!
It has been announced that now, 31 year old Duru and his company, Omni Hover boards, are working on a new and improved version of the device, hoping to develop the propeller-powered piece of technology further.
The news of this futuristic development couldn't have been announced at a more appropriate time, as we are just about to celebrate the 30 year anniversary of world famous 'Back To The Future' trilogy.
Back To The Future first brought fun-filled futuristic excitement to our very small television screens in 1985, when Dr. Emmett Brown accidentally sends Marty McFly back in time 30 years. The Back to the Future trilogy also saw Marty ride a hover board in Back to the Future Part II in 1989, to escape Biffs gang members in the year 2015.
In the 80's, technology such as hover boards and time machines may have seemed eons away, but with development from persistent inventors such as Duru, the future may be closer than we once thought.
With Cyclops, there is no need for time travel. With 106,536 hard to find or obsolete electronic components, the future is now!
To get in touch, just click here to send us an email, or to speak to one of our expert Account Managers, just call us on: +44 1904 415 415
---
Component Search
Enter Electronic Component part number below.