Showing posts for 2015
---
22 December 2015
Apple Secure Wafer Fab in San Jose, California.
World renowned company Apple inc has bought a wafer fab in North First Street, San Jose, California, directly next door to Samsung Semiconductor.
They've purchased the building from Analog Devices and mixed-signal chip vendor Maxim Integrated Products Inc.
Apple have paid $18.2 million for the huge 70,000 square foot building which ARTEG described as being suitable for prototype pilot, and low volume manufacturing.
The vast structure has also been described as operational, and included 197 pieces of chip manufacturing equipment from such makers as Applied Materials, Hitachi and Novellus.
Apple isn't intending on using the fab for production of its main chips, but will utilise the facility for R&D in other components such as mixed-signal devices, MEMS and image sensors, along with work on producing packaging.
---
11 December 2015
Cyclops Christmas Opening times!
It's not long now until the man in red will be sliding down your chimneys and dropping off lots of fantastic presents! If you've been very good that is...
The Cyclops office will be closed from 12.30 on the 24th of December until the 4th of January for Christmas.
You still have time to send us any Electronic Component requirements that you may have though, and we will try our very best to get a quote back to you as soon as possible.
Keep your eyes peeled for lots of new features, competitions and offers in the New Year, and don't forget to follow us on Twitter and like our Facebook page to keep updated over the festive holidays!
Everyone at Cyclops hopes you have a fantastic Christmas, and a brilliant New Year too!
---
25 November 2015
The App That Could Cure Cancer..
15 years ago, it all began with the sceptical views that mobile phones apparently cause cancer, but now; smart phones might be able to help cure cancer.
When you're asleep at night, what do you do with your smartphone? Put it on charge? Put it on flight-mode? Use it for an alarm?
Rather than wasting this valuable energy, you could be helping to cure diseases such as cancer and Alzheimer's.
The Garvan Institute of Medical Research (GIMR) have teamed up with Vodafone in Australia and developed a new app called 'Dream Lab'.
This revolutionary feature works when a phone is on charge by automatically downloading genetic sequencing profiles that are provided by the GIMR, which is processed using the phone's CPU, to be sent back to the institute and used in cancer research.
People who download the app are able to select which specific cancer they want to support, and can also select how much mobile data the app uses each month to prevent costly bills.
It is hopes that these contributions will help to an abundance of wider research, and potential statistics support this. If 100,000 install the app, researcher would be able to process data 3,000 times faster than at present.
This is not the first app of its kind though; an app called Folding@Home which was created at Stamford University also uses similar models to harness power. This power is then used to search for cures for diseases such as Alzheimer's, cancer, and epidemic diseases such as Ebola.
The tremendous attitude change towards mobile phones over the past 15 years, combined with the progression made highlights how quickly technology can be developed to contribute towards this compulsory research.
By doing something as simple as turning on an app before going to sleep, you could be helping save millions of lives in the future.
---
25 November 2015
25 Years Of Shipping Madness!
It's coming to the end of Cyclops 25th Anniversary year, but hasn't it been amazing?!
With the help of our customers, and our dedicated team, we are constantly working hard to make sure that Cyclops Electronics is your first port of call for all your electronic component needs.
Since Cyclops began, 25 years ago, we have shipped out a grand total of over 350,000 packages!
Comparing this to huge companies such as Amazon, who ship out 3.3 million boxes, and Ebay, who ship out 20,000 packages every single day, Cyclops may be small, but our condensed team of experts can help you with all of your needs and queries.
Of course, the opinion of our customers is the one that matters! If you have any problems using our website, or you have any ideas about the services that we offer, then please don't hesitate to let us know, we would love to hear from you!
---
04 November 2015
Tech For Pets!
If you're an animal lover, then you'll love this!
'Squeaker', an electronics company based in Melbourne, Australia, has designed and manufactured tech for your beloved pooch. If you worry about your pup getting loose, or having to leave them home alone, then fear not! Your new 'Buddy' is here to help.
'Buddy' is the name of this new collar. But instead of the conventional shiny nametag and spikes, 'Buddy', offers a helping hand when taking care of your dog.
Dog on the run?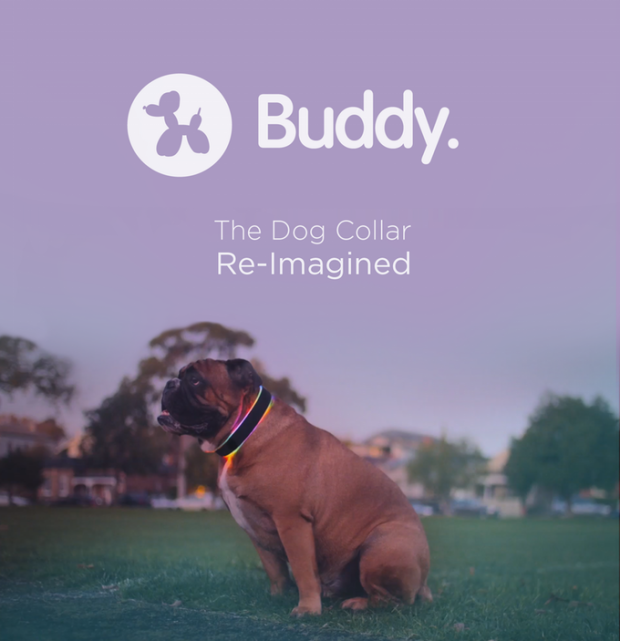 First of all, the high tech dog collar has been made with a built in GPS tracking system. When your dog is out an about, you can track their
whereabouts by downloading the 'Buddy' app, clever ey?
Another feature of the GPS tracking is the 'Virtual fence', using the app, you can 'draw' a virtual fence around an area. If your dog wants to wander further than he's supposed to, you'll receive a notification letting you know that he's out and about.
LED lights:
The next feature of this doggy-gadget is the LED lights that surround the exterior of the collar. The pretty colours aren't just for looking suave though, when night falls, the collar will automatically light up to avoid any collisions, and make your dog easy to spot!
If your dog takes the wrong turn and ends up lost, you can use the 'Buddy' app to report the pooch lost, which will light the LED lights up red and orange, so that passersby know he is missing.
Checking in:
If you're out and about for the day in a place where dogs cannot venture, or
stuck at the office for a long time, you can check on your dog at any time using the 'Buddy' app. If you have 'Nest' central heating, the app will also automatically connect with it to reduce the temperature of your house if the collar detects that your dog is too warm.
Furry FitBit:
Just like a FitBit that you or I may use to track our health, Buddy also monitors your dog's diet and exercise. This helps you make sure that your dog is getting the right amount of walks, eating the right amount of food and also tracks how much sleep your tired little puppy is getting.
The 'Buddy' app also lets you scan your pets food so that you can quickly check the nutritional value of what they're eating.
Extras:
The doggy babysitter 'Buddy' is also fully water-proof, it has a 14 day life span once fully charged and comes in three different sizes; small, medium and large.
Innovative ideas such as 'Buddy' make it easier to look after your loved one, and put your mind at rest when you can't be there for company and cuddles.
---
27 October 2015
Technology for Charity!
The concept of charity hasn't changed in many decades, however, the way in which we give to charities certainly has.

The United Nations Children Fund (UNICEF) has created a fitness band that combines exercise, gaming and charity, three components that nobody thought would merge.
The Fitness Band has been designed with children in mind, specifically for two purposes. Firstly, it increases the awareness of helping others through fun.
The device acts as a pedometer, and each child wearing the band will receive digital missions to complete a certain amount of steps. Once these steps have been completed, they unlock a parcel of food which is then sent to undernourished children.

Whilst benefiting the people that are sent the food, the Fitness Band is also encouraging children to do more exercise, who need more physical activity in their day-to-day lives.

The way it works is that the Fitness Band itself costs about $40.00 to buy outright, then each mission completed which then benefits the children in need cost around $4.00 to download. It's this $4.00 that is put towards the UNICEF charity.

UNICEF has cleverly created a device to be deemed 'cool' by the kids, which will make it desirable to every 11 year old. The more popular this piece of tech becomes, the more people are helped in the long run.

This is not the only technology that has been created recently with charity in mind though. Since it was BTTFD, (Back to the Future Day) less than a week ago, NIKE decided to create something EXTRA special.
With the help of their designers, NIKE has created the 'Self Tying Trainer' as featured in the film. They have done this for a number of reasons, one, to celebrate the once in a lifetime event of BTTFD, but also, to support a charity.

Nike designer Tinker Hatfield, who designed the movies original shoe, sent Michael J Fox a letter, explaining his idea, and explaining that funds raised from an auction of the incredible shoes will all be donated to the Michael J Fox Fund – A charity set up by Fox to help find a cure for Parkinson's, which Fox himself suffers from.

The idea in Hatfield's clever head is that during the later stages of the awful disease that is Parkinson's; simple things such as shoe tying become a difficult task. With a self-tying trainer, sufferers need not worry about it.

The trainers are currently on auction for over £10,000, so if you're desperate for this futuristic design, you had better get saving those pennies now!

It's inspiring to see how the advances in technology do not just affect the life of the person using them, but the lives of many others in need to.
---
21 October 2015
Back To The Future; We're already there!
Who said the hover board wouldn't be invented by 2015?
In April 2015 an inventor from Montreal called Catalin Alexandru Duru broke the Guinness World Record for the longest hover board flight in history!
The autonomously powered hover board of his own design and construction flew up to 5 metres over a lake, covering a distance of 275.9 metres on a trip that lasted over a minute and a half!
It has been announced that now, 31 year old Duru and his company, Omni Hover boards, are working on a new and improved version of the device, hoping to develop the propeller-powered piece of technology further.
The news of this futuristic development couldn't have been announced at a more appropriate time, as we are just about to celebrate the 30 year anniversary of world famous 'Back To The Future' trilogy.
Back To The Future first brought fun-filled futuristic excitement to our very small television screens in 1985, when Dr. Emmett Brown accidentally sends Marty McFly back in time 30 years. The Back to the Future trilogy also saw Marty ride a hover board in Back to the Future Part II in 1989, to escape Biffs gang members in the year 2015.
In the 80's, technology such as hover boards and time machines may have seemed eons away, but with development from persistent inventors such as Duru, the future may be closer than we once thought.
With Cyclops, there is no need for time travel. With 106,536 hard to find or obsolete electronic components, the future is now!
To get in touch, just click here to send us an email, or to speak to one of our expert Account Managers, just call us on: +44 1904 415 415
---
19 October 2015
The Merger Memo!
Four Technology companies this year alone have decided to join forces in order to create success.
In May, Avago Technologies agreed to buy Broadcom Corp for $37 billion, and then again in June, Intel Corp decided to buy Altera Corp for $16.7 billion.
Once again, the whispers of merging are being heard in the hallways of Maxim Integrated Product Inc, who have recently been approached by Analog Devices.
A spike in shares indicates that more and more people have caught wind of the possible deal.
Maxim's market has dropped from about $17.58 billion down t $9.88 as of Tuesday close, which could mean that merging with Avago is in their best interest.
What do you think the outcome will be? Email us today and let us know!
---
14 October 2015
The Four Golden Rules of Avoiding Counterfeit Components
Four steps to take when buying obsolete electronic components –
An article written by John Pallazola on his 'Earthtron Blog' explores the dos and don'ts of buying Electriconic Components, and the correct procedure to take when endeavouring to buy obsolete components.
Within this article, Pallazola claims that the act of Counterfeiting is due to 'Bad people in this world', and that the act of Counterfeiting is 'exposing a weakness of someone in a desperate situation in order to gain maximum benefit for themselves'.
Here at Cyclops Electronics, we take Counterfeiting extremely seriously, and we endeavour to do everything within our power to fight it.
Cyclops holds a valued client base, and does everything possible to ensure that a trusting relationship is formed with their clients beginning from the moment that they enquire.
The Four Golden Rules!
According to Pallazola, there are 'Four Golden Rules' that you must follow when you are purchasing Obsolete Components.
The first rule is Trustworthiness, research is essential when deciding which company to purchase your stock from. Cyclops Electronics has brilliant feedback from happy clients and is a noticeably credited member of the Electronic Resellers Association, (ERAI), and also has ISO900 Accreditations so you can rest assured that Cyclops is as trustworthy as they come.
The second rule is Traceability, it is important to know where your parts are coming from to know for sure whether they are genuine or not. Simple things such as the use of factory packaging, factory trays and original invoices indicate that a company is using genuine stock. Companies that fail to provide the original packaging often create excuses as to why it was lost, and may be counterfeit. One way that Cyclops can help with traceability is to provide CofCs when requested at requirement stage, they will always try to help their customers with CofCs when necessary.
The third rule is Testing, when in doubt, test your stock! FPGA testing can be difficult and expensive, however, legitimate reseller should be able to provide test reports when requested. Typically, most companies can take parts in and test a 10-15% sampling with a 1-2 day turn around. Testing your products before purchase is something that Cyclops is happy to help with, to ensure that you are happy with your stock.
The final rule according to Pallazola is Tangibility. This may seem obvious, but if a company can provide you with tangible details such as quantity, datecodes, pricing and photographs of real stock then this can prove that they actually have the components in stock. It is advisable to avoid companies that store their stock 'overseas' and offer a vague 1-2 week delivery scheme as they may not always be being honest. Cyclops store all of their stock in the UK, and offer a next day delivery service to make sure you receive your products as soon as possible.
Can all of this worry be avoided?
Buying obsolete components may seem a daunting process, and after reading this you may have been put off the process all together, but here at Cyclops, we can help.
As well as directly supplying obsolete components to our clients, Cyclops also offers a sourcing service. This means that you don't have to worry about any of the above issues, and you can leave all of the hard work to us. We can use our database of respectable external companies to source any component that you may be having trouble finding.
Cyclops also follow strict procedures to check any components authenticity after which, if we are still not happy, we will send any components away for tests.
When dealing with Cyclops, you can be assured that any component we have sourced and supplied have been scrutinised in our anti-counterfeit procedure.
---
05 October 2015
Electronic Counterfeits: Can they be avoided?
The global rise in Counterfeiting in the past 10 years
The issues surrounding electronic counterfeit has been within the public's eye for many years, however the intensity and complexity of the problem has only become obvious over the past 10 years, and more so over the most recent 5 years.
Electronic Counterfeit is not something that is to be taken lightly. Components that are not genuine can fail to perform under the most critical circumstances, and can lead to endangering the lives of the general public.
The dangers of Counterfeit Components:
An example of such an event could be Counterfeits that have been discovered in missile guidance systems, which causes serious security problems for the U.S Department of Defence.
As well as missile guidance systems, electronic counterfeit components have also been found in everyday items such as servers, routers and storage hardware, though less dangerous, this is still not acceptable, and needs to be prevented.
One way of monitoring and avoiding Counterfeit components is Serialization technology. This includes components being given a universal unique ID serial number which can then be identified by all.
Some companies apply this technique when labelling components; however, not all do, creating a lot of different 'home-grown' barcodes for the same component, allowing Counterfeits to enter the supply chain.
Anti Counterfeit, Inspection and Testing Procedures:
Here at Cyclops electronics, we follow strict guidelines and procedures when it comes to inspecting for Counterfeit Components.
To enhance our strict ISO 9001 quality and testing procedures we also use the Sentry Counterfeit Detector from ABI Electronics to ensure the authenticity of devices and to protect you from Counterfeit products.
In addition, we also have the capability to conduct X-Ray, X-Ray Fluorescence, high resolution microscopy and dimensional analysis and decapsulation tests to further screen our components. Each step is made with the utmost care to help combat Counterfeiting.
Does this work?
When last analysed Cyclops Electronics RMA rate was less than 0.05% of all lines shipped, giving you complete peace of mind that your production lines, and your profitability, won't be compromised by counterfeit components when purchasing from us.
If you want to know more about our Counterfeit Procedures, you can give us a call on 01904 435 456 or email via sales@cyclops-electronics.com. We are always here to help!
---
Component Search
Enter Electronic Component part number below.